chrompet times 23 08 2015
chrompet times 23 08 2015 e-paper online version
Read Chrompet Local Newspaper Online
Comments (0) 22.08.2015. 20:20
Chennai Diamonds warmly welcomes each and every one of you to journey with it to the World of Diamonds. Travel to the ultimate destination for all your diamond jewellery with South India's choicest jeweler.


Chennai Diamonds is pleased and proud to Inaugurate of its newest Showroom in Anna Nagar on 21st August, 2015 at 10.00 AM. It is also favored to have the celebrated Sangita Kalanidhi, Kalaimamani and Padmabhushan Sudha Ragunathan and popular youth icon and Bollywood film star Akshara Haasan as its Chief Guests of Honor.


A retail venture of Four Ceess, Chennai Diamonds the exclusive diamond jewellery showroom has really made its impact in South India. Seven years ago to this date Tamil Nadu got its first Exclusive Diamond Showroom that cut its own niche in the market with the unique idea of adding a sparkle to everyone's life by making diamonds even more affordable.


With wide ranging and dazzling collections that hail from the most exotic regions around the world; Belgium, Tokyo, Hong Kong, Bangkok and Italy including India's very own, Rajasthan and Tamil Nadu, Chennai Diamonds guarantees you an incomparable shopping experience. Explore a wealth of wares under its roof that encompass everything from generic everyday wear to customized bridal ornaments that hallmark every woman's most unforgettable day. Be it solid belt buckles or signature pens that reinforce masculine identity or Maang Tikkas and sari pins that grace elegant femininity, it satisfies your distinct needs including your realistic demand for affordable Solitaire Diamonds, certified for their authenticity.




But there's more to this diamond showroom brand than opulent jewellery display. Passion, ambition and a staunch desire to stay by its own high standards has led it to become a favorite choice of Chennai's miscellany of elite customers. As their patronage increased, Chennai Diamonds felt the driving need to open another showroom. This it successfully did in T.Nagar recently. And now on Friday, the preferred jeweler will launch South India's Largest Exclusive Diamond Jewellery showroom ever in Anna Nagar to make the area really boom.


As the years go by, Chennai Diamonds always has something special for every time and season be it Diamond Rakhis or Thanksgiving Week Offers for its cross section of customers. Its commitment to their satisfaction and emphasis on customized designs are the main reasons behind its spectacular growth along with the appeal of its professionally trained staff and ideally located world class showrooms.


All its showrooms are located in prime areas of the city and have more than sufficient parking space and other convenient facilities so that customers who drop by are assured of a superior shopping experience with only diamonds on their minds.


For all enquiries concerning the new Anna Nagar showroom, please call +91 44 26262099 or email shop@chennaidiamonds.in
Chennai Diamonds
A-13,2nd Avenue, Roundtana Junction, Anna Nagar
Chennai
,
Tamil Nadu
600102
Phone:
044-26262099
Comments (0) 21.08.2015. 16:17
chrompet times 16 08 2015
chrompet times 16 08 2015 e-paper Online Version
Comments (0) 15.08.2015. 21:32
Pillar Times 16 08 2015
Pillar Times 16 08 2015 e-paper Local Newspaper Read Online
Comments (0) 15.08.2015. 20:41
Arcot Road Talk 16 08 2015
Arcot Road Talk 16 08 2015 local Newspaper in e-paper
Comments (0) 15.08.2015. 20:38
Happy Independence Day 2015
Thousands laid down there lives so that why our country breath this day..Independence day
15 August is a good time to examine who we are and how we got here.
Feel the freedom, Happy Independence Day
BY TEAM LOCAL NEWSPAPERS
Comments (0) 14.08.2015. 19:09
Chennai, August 2015: GO GIRL GO is a newly launched stand and pee female urination device. Made out of disposable and ecofriendly material, it is easily portable and helps women to urinate discreetly and tidily in the standing position. It is the ultimate answer to the bane of the working and traveling woman.

Unhygienic and dirty toilets are the order of the day and cause much frustration among women. This invariably demands that they hold back and wait till they are in the comfort of their own homes. Holding back of urine is known to cause multiple medical complications. Go Girl Go is the solution to these problems as it takes away the stress of having to come into contact with dirty toilet seats!

It also offers a unique solution to women who have difficulty sitting or squatting due to pregnancy, surgery, or other medical conditions like arthritis. Go Girl Go has also made the task of peeing into small cup or bag for medical tests much easier. Go Girl Go could well form a part of essential supplies in hospitals and clinics. Go Girl Go can be carried discreetly because it is petite and compact. As it is pocket sized, it can fit snugly into a handbag or purse. Go Girl Go is available online at Rs.80 per pack containing 5 pieces. Visit www.gogirlgo.in and get yours!

For women, by women:

The story of GO-GIRL-GO is really the story of Krithika Bala and Lakshmi Venkatesan, over coffee, pondering over the myriad of practical problems that women face today! In the course of this conversation they realized that there could be such a simple solution to problems faced where public toilets are concerned! Why must all women go through such an ordeal just to relieve themselves? So they didn't just stop there… talking and lamenting and considering various solutions! They went all out and decided to make it happen for all the women out there! For more information call: +919791154954
Comments (0) 13.08.2015. 20:20
FREE AYURVEDHA CAMP @ NANDHINI SENIOR CITIZENS HOME, NEELANKARAI- PH: 9176370283/4/5
As part of Independence Day celebration, Appaiya Dikshithar foundation (ADF) in association with Sreehareeyam Ayurveda (thiruvanmiyur) and Kottakkal Arya Vaidya Sala agency (thiruvanmiyur) jointly are conducting a free Ayurvedic camp @ Nandhini senior citizens home situated in no.87, 5th cross street, vaidyalingam salai, Neelankarai, Chennai 600115 (opp buhari hotel bus stop) on 15th August 2015, from 10 am to 1 pm.
Dr.C.L.RAMAKRISHNAN IPS [retd. DGP] is the honourable chief guest inaugurating the camp. Senior citizens residing in the neighbourhood areas in ECR shall also be benefited by this camp. For further details and those organisations and persons interested in conducting such similar camps in their premises please contact – program coordinator Mr.S.Srinivasan (9791019450).
Comments (0) 13.08.2015. 20:15
Sri Rama Bhaktha Jana Samaj K .K Nagar, Chennai. PH: 044-23661529
Janmashtami uthsavam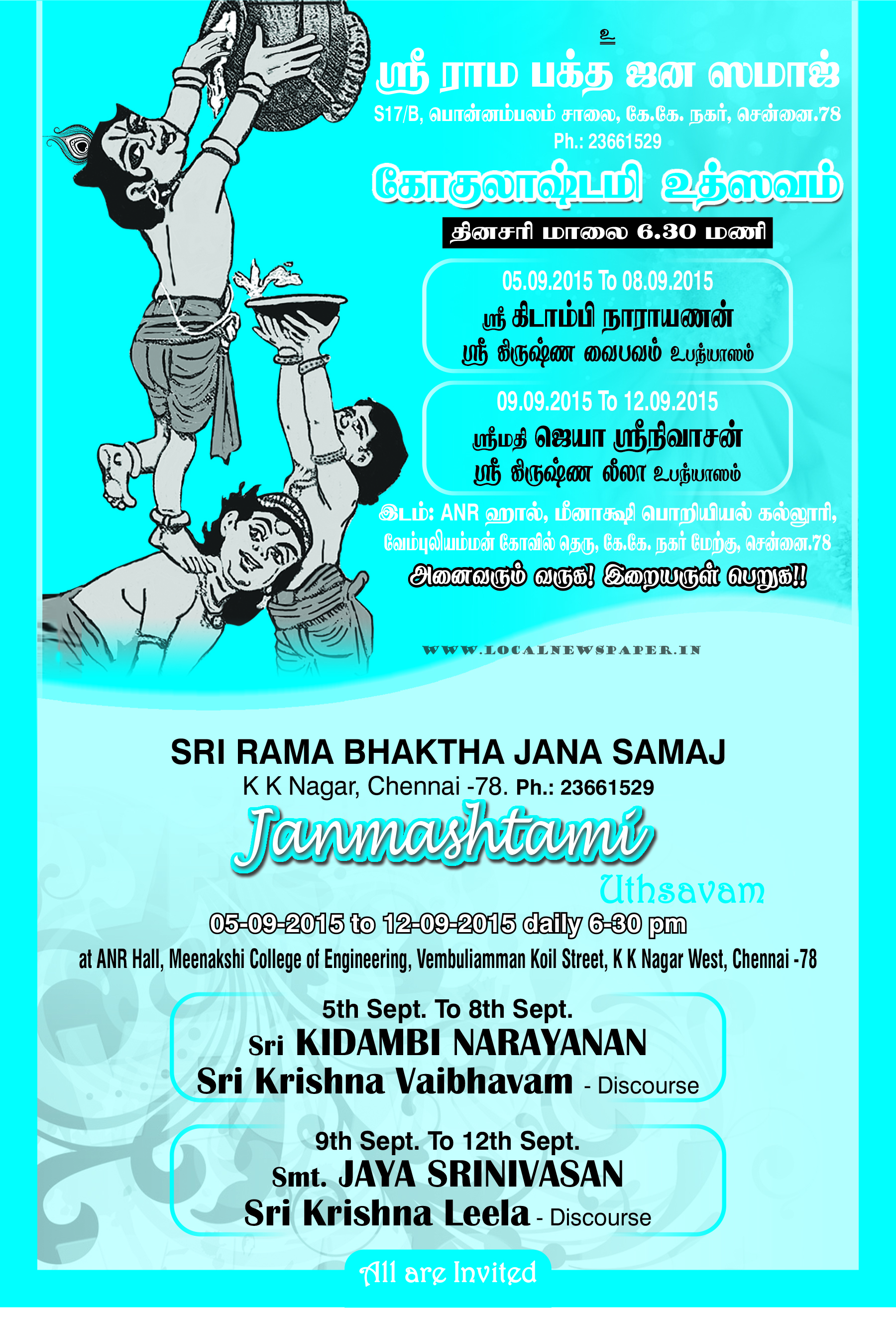 05-09-2015 to 12-09-2015 daily 6.30Pm at ANR Hall , Meenakshi College Of Engineering, Vembuliamman Koil Street, K.K.Nagar West, Chennai -78
5th sept to 8th sept Sri KIDAMBI NARAYANAN Sri KRISHNA VAIBHAVAM - Discourse.
9th Sept To 12 th Sept. Smt. JAYA SRINIVASAN Sri KRishna LEELA - Discourse
All Are Invited
Comments (0) 13.08.2015. 19:07
News Categories
RSS Feeds
Career opportunities
*Telemarketing Executives
*Marketing Executives & Manager
E-mail your resume to timeslocalnewspaper[@]gmail[.]com. Read Local Chennai Weekly e-papers powered by Times Media, Local Newspapers
Connect With Us:
Visit Our Sample ADVTS for Sizes and Client Gallery in our Newspapers Gallery Click
Newspapers
to go to Gallery.
Local News Visit
LATEST NEWS
CLICK THE IMAGE TO READ
Latest News
Times Comments