Sri Rama Bhaktha Jana Samaj K .K Nagar, Chennai. PH: 044-23661529
Janmashtami uthsavam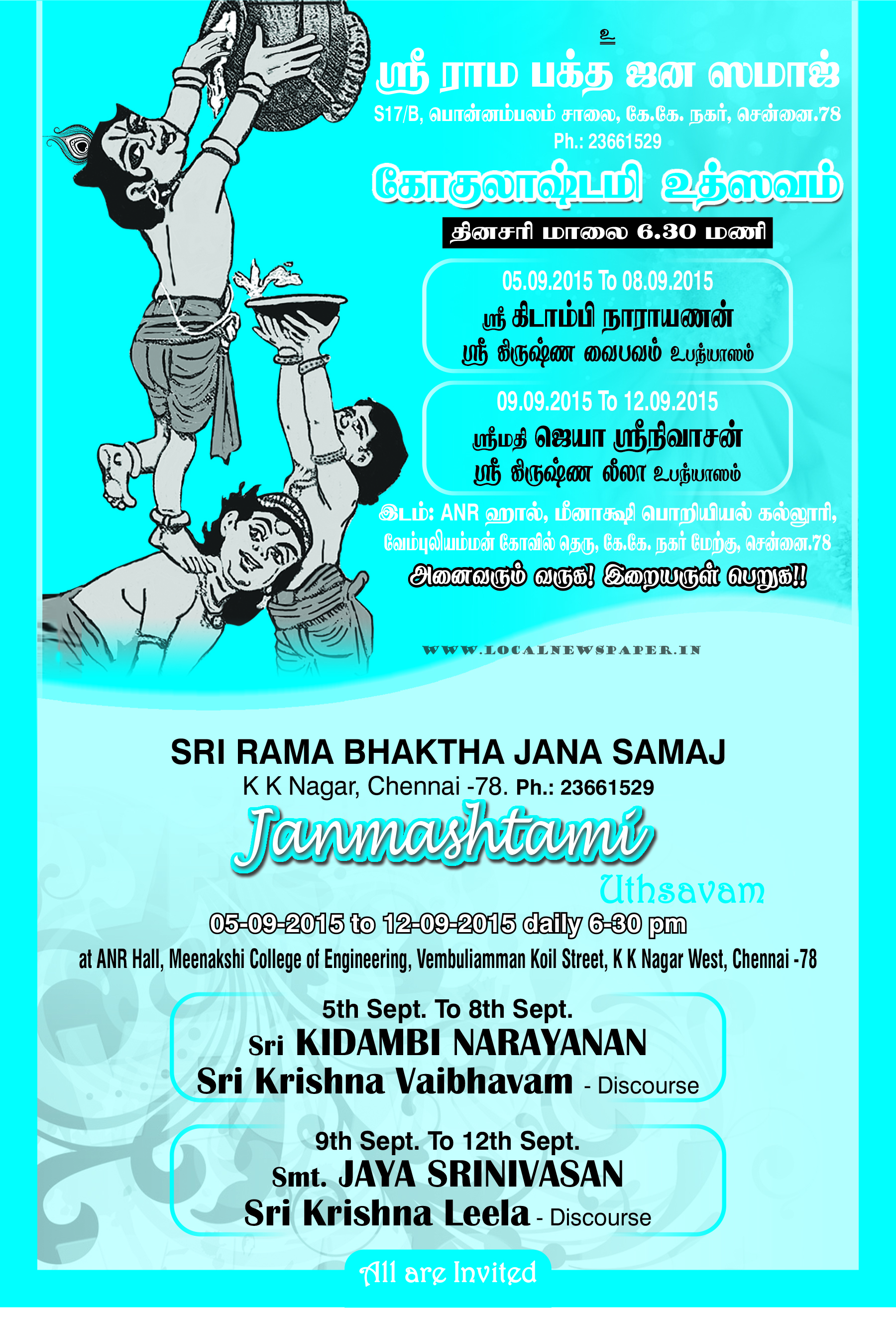 05-09-2015 to 12-09-2015 daily 6.30Pm at ANR Hall , Meenakshi College Of Engineering, Vembuliamman Koil Street, K.K.Nagar West, Chennai -78
5th sept to 8th sept Sri KIDAMBI NARAYANAN Sri KRISHNA VAIBHAVAM - Discourse.
9th Sept To 12 th Sept. Smt. JAYA SRINIVASAN Sri KRishna LEELA - Discourse
All Are Invited
Comments (0) 13.08.2015. 19:07
Oral cancer detection camp conducted at K.K.Nagar
Eleven person deducted for pre cancer disease among 122 people participated in a free dental screening and oral cancer detection camp conducted by Rotary Club of K. K. Nagar at Anjali Mahal, Pachaiappan Street. MGR Nagar recently.
Girija Raghavan , President, Rotary Club of K. K. Nagar said that a doctor team of 10 headed by Dr Ramkumar from Ramachandra hospital screened the patients in presence of Dr. Kandasamy , Dean, Ramachandra Hospital, Isak Nazar, Rotary District Governor, 3230 and other rotary members.
She said that free treatment will be provided for the patients attended the camp in Ramachandra Hospital diagnosed with various dental problems.
12.01.2015. 13:48
Akanda Sri Vishnusahasranama paaryanam
Sri Lalitha Sahasranama Mandali Shanmugam Salai, K. K. Nagar conducted Akanda Sri Vishnusahasranama paaryanam on 4th January 2015 at Sri Muthumaariamman Temple, Ponambalam Salai, K. K. Nagar for world peace.
Seethalakshmi Mahadeven Founder said that members of mandali chanting Sri Lalitha Sahasranama every Friday's, Abirami Ananathi and Lakshmi Sahasramam on every Tuesday, and Sri Vishnusahasranamam and other devotional songs on every Saturday at 4 pm in the temple premises.
Mandali members also visit orphanage, old age home and other needy organization to provide the social service,She can be reached at 98417 65222.
12.01.2015. 13:43
Religious Discourse on THIRUARUTPA
THIRU ARUTPA  - ANUBAVA MAALAI Religious Discourse On 06.01.2015 Tuesday By M.P. SATHYAVEL MURUGANAR  At Arulmugu Sakthi Vinayakar Thirukoil, P.T.Rajan Salai, K.K.Nagar. Time : 6.00 pm  to 8.00 Pm All are Welcome.
04.01.2015. 20:15
A Sahasra Deepam function was organised recently at Durga Ganapathi Temple at R.K. Flats situated in 1/2, Jeevanandam Street, West K.K.Nagar, Chennai-78 .
All the Flat owners and nearby flat owners surrounding the flat also participated in this programme.
The Sahasra Deepam was lighted around the temple by chanting Ganesa Ashothram, Trisathi and Sahasra Namam sthostram.
The main idol Durga Ganapathi was adorned with different Laddu and fruits. After the Deepams were lighted, Arthi was performed and prasadams were distributed to the devotees.
04.01.2015. 19:52
Bangkok to Pillar with Gold Medal
Master C. K. Sai Naren, participated in the Open International Roller Skating Championship held on 27 Dec 28 Dec at Bangkok, Thailand and bagged 1 Gold Medal and 1 Silver Medal with Individual Championship, and he was the first Quad Skater in under 6 yrs category participated from Tamil Nadu.
Sai Naren is learning skating for the past 3 years at Spunk Roller Skating Club, K. K. Nagar. He is located at is AP 289, New No. 14, 8th Sector, 41st Street, K. K. Nagar, Chennai-78 Can be reached at 9444448997, 9380139869.
Father of Sai Naren , Mr.N. Karthik a daily wages cook appealed for sponsorship for his son to participate in the upcoming event.
04.01.2015. 19:34
News Categories
RSS Feeds
Career opportunities
*Telemarketing Executives
*Marketing Executives & Manager
E-mail your resume to timeslocalnewspaper[@]gmail[.]com. Read Local Chennai Weekly e-papers powered by Times Media, Local Newspapers
Connect With Us:
Visit Our Sample ADVTS for Sizes and Client Gallery in our Newspapers Gallery Click
Newspapers
to go to Gallery.
Local News Visit
LATEST NEWS
CLICK THE IMAGE TO READ
Latest News
No articles at the moment
Times Comments